Rhino Custom Knives - by Laurence Segal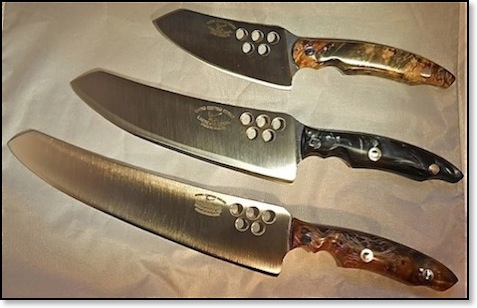 A Selection of Rhino Custom Knives Made by Laurence Segal
Rhino Custom Knives
are thoughtfully designed and painstakingly crafted by
Laurence Segal
, who has been developing his designs and making knives for twenty years.

Rhino Chop - A Uniquely Designed Knife
Laurence Segal, who does his knife making at his
Westside Sharpening & Cutlery Center
, has created a uniquely designed chopping knife, particularly good for chopping vegetables easily and exactly
.


This knife design, the
Rhino Chop
, is a signature design for Laurence. The
Rhino Chop
also works very well to cut a whole chicken into parts, to fillet fish, or to slice meat.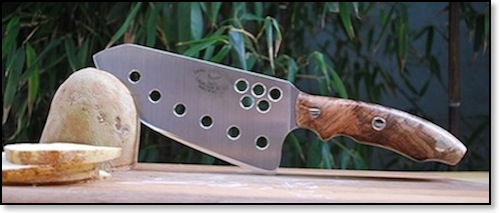 Rhino Chop with Amboynia (Exotic Wood from Burma) Wood Handle
Rhino Chops
similar to that pictured above are available starting at $400.
Hand Crafted Rhino Knives Available Now

Laurence usually has a few of his hand crafted knives on display and for sale at
Westside Sharpening & Cutlery Center
, including his uniquely designed Rhino Chops, other culinary knives, and outdoor knives.

If you prefer to wait for a custom made knife. Laurence will custom craft exactly the knife you want - choose the type of blade, the length, and handle material that works for you and delights your own eye.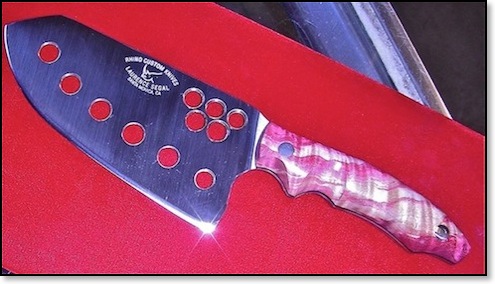 Is this Beautiful Hand Crafted Knife Still Available?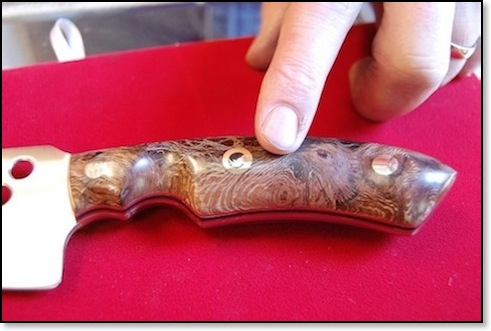 You can choose the type of blade, length, and handle material and shape that make a knife ideal for you.
You're Welcome to Come Look Around

You are welcome to come browse at
Westside Sharpening & Cutlery Center
. You are not under any pressure to buy anything and knife craftsman Laurence Segal will be delighted to show you his work room in the back, if he isn't helping customers in the front showroom.

If you can't budget for a custom made knife right this moment,
Westside Sharpening & Cutlery Center
carries a wide range of top name commercially manufactured knives.


Westside Sharpening & Cutlery Center
also offers other kitchen tools.



Expert Sharpening, Of Course

And, of course, Laurence sharpens almost every bladed instrument. Bring your own kitchen knives in for expert and professional sharpening before you start your holiday cooking days!



Contact Laurence Segal

WESTSIDE SHARPENING & CUTLERY CENTER
1207 4th Street, #150
Santa Monica, CA 90401
(310) 395-3075


[We're located at the SE Corner of Wilshire and 4th, with 2 hours of free parking across the street in the Santa Monica City Parking Complex.]


Email: info@westsidesharpening.com
Website: westsidesharpening.com


All of our Rhino Custom Knives are made right here in the USA, in Santa Monica, CA.
(Some of the exotic woods in the handles may have originated abroad.)
Support your fellow Americans - buy American and bring jobs back home.